Consumer electronics or home electronics are electronic (analog or digital) equipments intended for everyday use, typically in private homes. Consumer electronics include devices used for entertainment like flatscreen TVs, DVD players, video games, remote control cars, etc. The Gaming Products are highly available online and are sold what the customer really want but it happens when we are unable to decide between some products according to its features and prices. Here are some products from famous shopping sites and with best ratings and price , and could get some suggestions from us.

The Products mostly used for Gaming :-
Laptops
GamePads
External RAM
KeyBoards
Mouse
Graphics Card
MotherBoards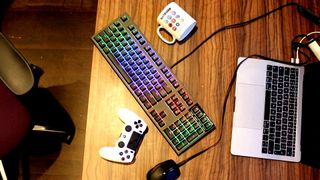 You can discuss your opinion with us and can ask queries regarding your product , whether you want to buy any Gaming Product or you have any product and having the problem in using it.